Our amazing Ambassador, Jack Davis has been working hard with Bowel Cancer Foundation Trust for the past 3 years to help get the unfunded immunotherapy treatment called Keytruda, funded for bowel cancer patients in NZ.
Because Pharmac wont fund Keytruda, bowel cancer patients like Jack have to pay privately to stay alive. Jack is running out of funds and now finds himself battling emergency departments as he gets passed from one DHB to another just to keep himself alive.
Read Jacks story that appeared in Stuff.co.nz below.
--------------------
An ambassador for the Bowel Cancer Foundation Trust​ says staff at Christchurch Hospital's emergency department (ED) need to lift their game after being told he was not an emergency.
Jack Davis has been involved with the trust since being diagnosed in 2017, becoming an ambassador last year.
He is no stranger to pain, having been fighting terminal cancer for years.
So when ED staff told him he was not an emergency case after he presented with excruciating abdominal and back pain, he was livid.
Davis, who moved with his family from Canterbury to Golden Bay two-and-a-half years ago, was in Christchurch last week for a check-up following his latest surgery to remove tonsil palette cancer that developed last year.
Before he left home, he spoke to his oncology nurse​ in Nelson about the increasing pain he was feeling. She told him to go straight to ED if it continued while he was in Christchurch.
By Friday, he felt so unwell his wife, Sally-Anne, insisted he go to hospital.
"I was complaining of back pain even prior to my surgery [in November], but on Friday I was doubled over, curled up in pain, rocking like a baby."
He believed the pain was likely caused by his cancer growing and strangling his small intestine, but was not given a scan.
"I waited for five hours before they even gave me pain relief, then another hour.
"They took bloods and urine, tested all my organs were working, then said 'there's nothing we can do, it's not an emergency'."
Davis said he should have been taken far more seriously given his extensive medical history.
"In the past week I have taken a turn for the worse – I'm now vomiting, which is a sign of a blockage ... a simple scan would have sorted everything out."
He said ED staff told him there was no point scanning him as it would not be read until after the weekend, so it would be just as easy for him to get a scan in Nelson on his way home.
Davis said he got the impression no-one was listening to him, which left him fuming.
He decided to speak out to get improvements for others.
"As an ambassador, I am talking because ... it needs to be better.
"Telling me to just wait until Nelson – I could have been dead."
He ended up having the scan in Nelson on Wednesday and is now awaiting the results.
The Canterbury District Health Board said it would not comment on individual cases.
However, consultant emergency physician Mark Gilbert said while scans were part of the suite of diagnostic tools used, they were only deemed appropriate in a minority of cases.
"Bloods and urine are enough to rule out serious causes of abdominal pain in most, but not all patients," he said.
"Scans are used only in a minority of cases when we are concerned about particular causes of the abdominal pain."
Davis has Lynch syndrome, a rare hereditary condition that increases the risk of bowel cancer by 50 per cent before the age of 70.
He had tongue cancer in 2013 and received chemotherapy and radiation before being given the all-clear in 2014.
But near the end of 2015, he collapsed at home. Test results showed he had bowel cancer, and 15 tumours were discovered.
Davis underwent surgery to remove his large intestine, but in 2017, aged just 49, he was diagnosed with stage 4 terminal bowel cancer and given less than six months to live.
His only options were palliative chemotherapy, or a new drug called immunotherapy pembrolizumab (Keytruda), which had a substantial cost in New Zealand.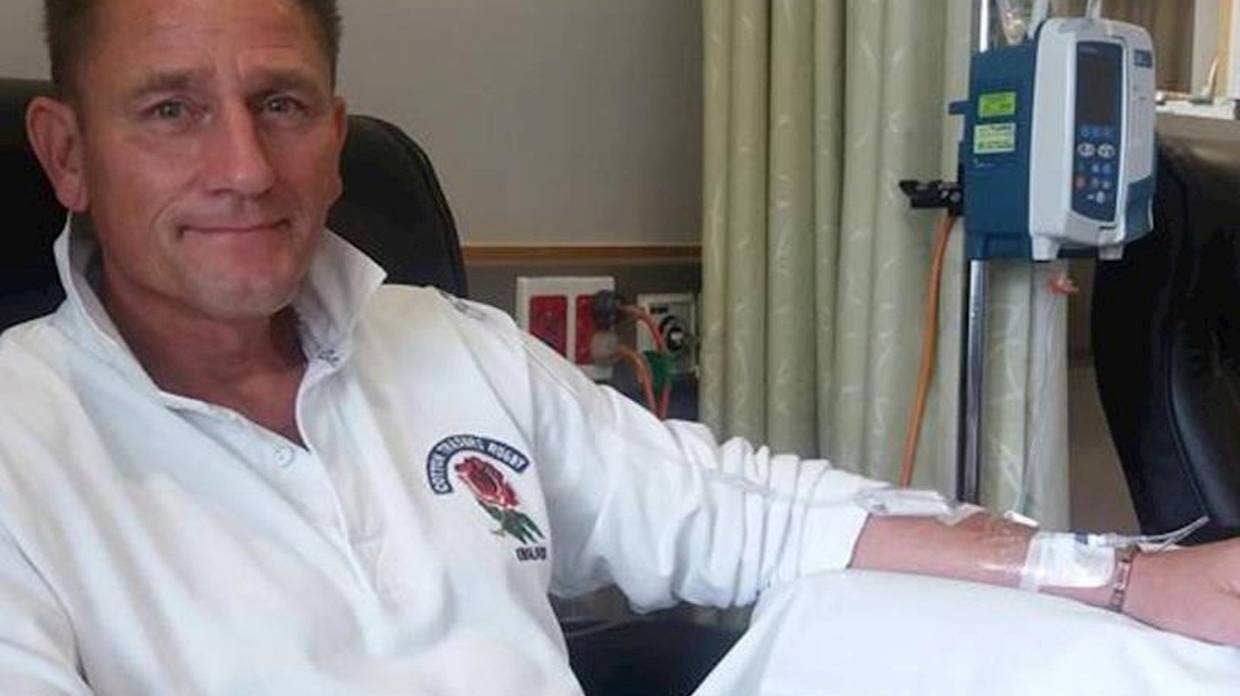 "Fundraising was the only option for us, and we are so grateful to so many people for donating to help pay for this drug to keep me alive."
He had 32 infusions over two years, which shrank his terminal tumour by half, but he was forced to stop because of the cost.
"I feel like a ticking time bomb; it's really upsetting when I've got so much to live for."
The only option available was to raise more money for Ketruda, a drug Davis was working hard to make freely available for other New Zealanders in his position.
The family has had to resort to a Givealittle page in the hope they can raise enough for some more infusions this year.
Davis said he would continue to work with the Bowel Cancer Foundation Trust to lobby Pharmac to support public funding and access to Keytruda for patients with Lynch syndrome.
Bowel Cancer Foundation Trust chief executive Georgina Mason said because Pharmac still refused to fund Keytruda, Davis had the added stress of finding extra funds to continue receiving the treatment in a private hospital.
The trust had recently submitted a support submission, she said, requesting the funding of Keytruda treatment for adult and paediatric bowel cancer patients as well as gastric, breast and endometrial cancers where the treatment had been proven in clinical trial data to double survival time and in some cases, seen their cancers disappear completely.
Pharmac approved funding for Keytruda for metastatic melanoma in 2016. There are nine other applications for funding Keytruda for other types of cancer, including one lodged in May last year, which Pharmac is working through.
Director of operations Lisa Williams said when managing a fixed budget, there would always be more medicines than it could afford to fund, which meant difficult choices had to be made.
New Zealand has one of the highest rates of bowel cancer in the world. It is the second highest cause of cancer death in New Zealand, behind lung cancer, with more than 3000 Kiwis diagnosed each year.
Update: 16th February 2021
Jack has finally received his scan results which show his tumour has in fact grown by 5cm's. Jack re starts Keytruda tomorrow which has been proved to shrink his tumours in the past.
Jack still needs your help stay with his family for longer and keep himself alive.
If you can help Jack, please visit his Givealitte page here