Keytruda has given 65 year old Sally Rangimare Wast her life back. Just four cycles of Keytruda has shrunk her stage 4 bowel cancer tumours enabling her to enjoy remission for the past 18 months drug and cancer free.
It gave the Invercargill local, time to spend with her son Tane Roderick, before he was tragically killed by an overseas tourist who drove her campervan in to his motorcycle on Waitangi Day earlier this year.
Tane had just celebrated his first wedding anniversary and had been his mum's biggest supporter and advocate for her treatment working alongside Bowel Cancer Foundation Trust, after she was diagnosed with stage 4 bowel cancer in 2017.
Cancer
"I thought I had the stitch. But the next day, I still had it – and my whole side was sore. I found out it was cancer," Sally explained.
After surgery, radiation therapy and chemotherapy, her children Jade, Tane, Linda and Kara were at a loss with how to help their beloved mum. Bowel cancer was exacting a heavy toll on her physical and emotional wellbeing and she was about ready to give up when Tane discovered Keytruda.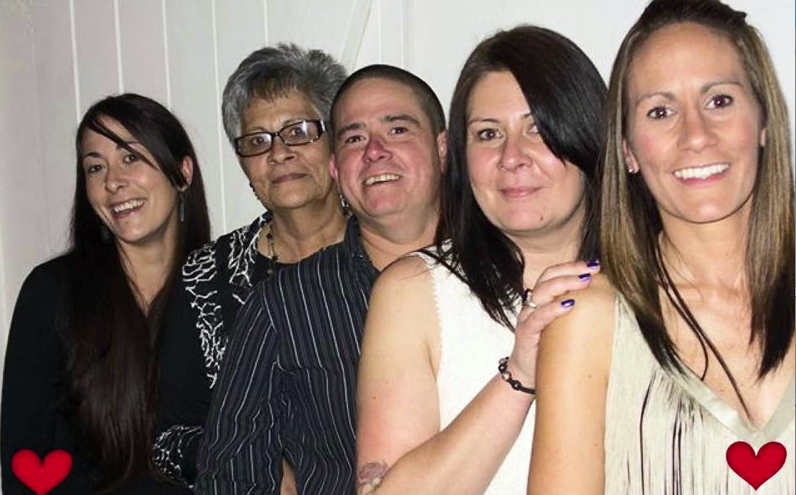 Jade, Tane, Linda and Kara with mum, Sally

Unfunded immunotherapy drug, Keytruda, has beaten standard chemotherapy in a head to head test to delay cancer progression showing its viability to be used as a first-line treatment for MSI-H bowel cancer patients around the world.
Merck Sharp & Dohme Global (MSDG) in the US, released data in April from their phase 3 Keynote-177 trial which showed the immunotherapy treatment compared favourably to chemotherapy for improved progression free survival if used as a first-line treatment option in patients with a particular genetic profile. Before now, it's used has been recommended only after chemotherapy.
Keytruda is not currently funded in New Zealand and has a very high price tag of $87,000 for the first 9 cycles before the pharmaceutical companies 'cost share programme kicks in to help pay for it.
"I have had a great 18months in remission and having keytruda allowed me time I wouldn't have had if it hadn't been for Tane and his determination. I got to go to his wedding in Mexico which was magical and spend quality time with all the whanau."
Sadly the cancer has returned and decisions have to made over the next few weeks as to "where to from here."
"I've got quite emotional since I've been sick. When you're a single mum, you get quite tough, and now when something makes me sad, I cry. I think, "At my age, if I want to cry, I'll cry."
Keytruda has already worked for Sally but she feels the cost to continue the remaining treatment cycles is just too much of a burden for her to place on her family.
"I guess the time has come for decisions around the continuation of the treatment. As you will know it all comes down to finances and raising another $40,000 is something that I will not burden my whanau with. So I've decided to make the most of time left."
Sally has given so much to her community, but the value of her life has now been reduced to dollars and cents.
Visions of equity
Sally committed her working life to her people, Ngāi Tahu, and Māori in general. Sally hopes her vision of equality will be taken forward by others after her death.
Speaking to the publication North & South in 2019, Sally shared that she knew early on she'd like to advocate for Māori and make sure they received equal treatment.
She worked for a number of organisations to help where she was needed including organisations such as Maatua Whāngai which was set up for Māori within the government social welfare system
"I took up the role of mōkai in Invercargill. I was the whānau support person at WINZ appointments, or the police would ring me and say, We've got to remove a child from a whānau. Can you please come and help smooth the waters? I'd calm them so it didn't become a full-blown war, and explain the law to the family and why it was happening."
"After that I worked for Ngāi Tahu. It was an exciting time politically – iwi we're getting a say in New Zealand laws and we were part of the process. The Resource Management Act meant Māori had to be consulted. Then the Treaty claim started, so we were in a decade of excitement and relevance. Ngāi Tahu led the way in terms of claims and the Waitangi Tribunal, and we finally had a platform to grow economically and ensure our kids could get good-quality education and compete in business."
In 2011 Sally was deployed to Brisbane in Australia with the NZ Red Cross to help with flood relief co-ordination work. She continued as a Plunket Kaiawhina where she then helped care and protect young mothers, babies and children from the hardship some face day to day and received commendation from the then Prime Minister Helen Clark.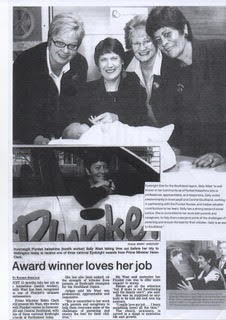 "I've noticed when I go through cancer treatment, I don't see many Māori. In the last two years, 150 non-Māori and 26 Māori went through my hospice. The hospice is wonderful, so where are they all? Are Māori provided with the same information? Do they say, "No thanks, I'll just go home and die" – and what is the reason for that? Is there anyone advocating for them? I'm lucky because my daughter's a nurse and my son-in-law's an anaesthetist and they have walked me through it."
Sally has no regrets and vows to continue to advocate for those who cannot in the time she has left. She will be including her story as part of Bowel Cancer Foundation Trusts submission to Pharmac to request the public funding of the immunotherapy drug Keytruda which has clearly worked for her.
She wants every cancer patient that Keytruda helps to benefit from the drug that has afforded her precious time with her family and not reduce their life also to just dollars and cents.