The World Health Organisation classed COVID-19 (Coronavirus) as a pandemic, highlighting the importance of planning and preparation in response to the virus, especially for those at high risk including cancer patients and those with low immune systems. With the landscape changing so quickly it's hard to know what to do, especially for those groups of people in New Zealand who are more vulnerable. Should you wait for more advice? Do something today? What can you do to protect yourself as much as you can?
Click here to read the most updated report for cancer patients as NZ moves into Alert 4 status...(25/03/2020)
What is COVID-19 / Coronavirus?
Coronaviruses are a large and diverse family of viruses which cause illnesses such as the common cold. The most recent diseases caused by coronaviruses include severe acute respiratory syndrome (SARS) and the Middle East respiratory syndrome (MERS).
On 7 January 2020, Chinese authorities confirmed the identification of a new type of coronavirus now called severe acute respiratory syndrome coronavirus 2. This has not previously been detected in humans or animals.
Symptoms include:
fever
coughing
difficulty breathing
Difficulty breathing is a sign of possible pneumonia and requires immediate medical attention.
Like the flu, COVID-19 can be transmitted from person to person. The scientific evidence confirms that COVID-19 is spread by droplets. This means that when an infected person coughs, sneezes or talks, they may generate droplets containing the virus.
Currently, there is no specific treatment for coronavirus, but medical care can treat most of the symptoms. There is currently no vaccine for COVID-19 as it is a new virus.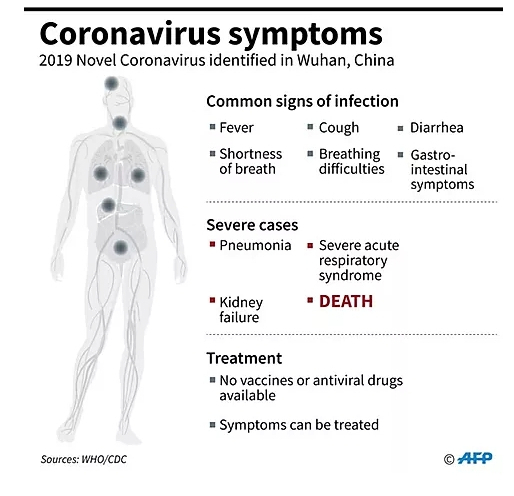 Current Situation in NZ
With continued vigilance, the Ministry of Health expects the chance of widespread community outbreaks to remain low.
DHB's are planning dedicated community assessment centres around the country.
At this stage the Ministry of Health is asking people who have visited countries or areas of concern and who have developed symptoms of fever, cough or shortness of breath to seek medical advice – phone Healthline's dedicated COVID-19 number 0800 358 5453 or contact your GP, including phoning ahead of your visit.
Countries or areas of concern so far include:
China
Italy
Iran
South Korea
Get advice straight away if you are in contact with someone with confirmed coronavirus, or if you need medical help.
For COVID-19 health advice and information, contact the Healthline team (for free) on 0800 358 5453 or +64 9 358 5453 for international SIMS.
The Ministry of Health is monitoring the situation closely and say our health system is prepared and ready to respond. The Ministry of Health maintains preparedness for a pandemic with an up-to-date Pandemic Plan. While this is not an influenza outbreak, the plan is a very useful guide.
What does it mean for Cancer Patients?
We are reassured that the Ministry of Health in NZ will continue to provide cancer treatments as normal and, if it becomes necessary, prioritise some patients for hospital treatment. Cancer treatment plans would only be changed if there is no alternative.
Some people with cancer are more at risk of becoming seriously ill if they contract the COVID-19 infection including:
People having chemotherapy, or who have received chemotherapy in the last three months
People having immunotherapy or other continuing antibody treatments for cancer
People having other targeted cancer treatments which can affect the immune system, such as protein kinase inhibitors
People having intensive (radical) radiotherapy for lung cancer
People who have had bone marrow or stem cell transplants in the last six months, or who are still taking immunosuppression drugs
People with some types of blood cancer which damage the immune system, even if they have not needed treatment (for example, chronic leukaemia, lymphoma or myeloma)
Your clinician may advise people in these groups to minimise their risk of exposure to COVID-19 infection by avoiding crowded environments, limiting social interaction and maintaining careful hand hygiene. Wash your hands for twenty seconds, sneezing into your arm and do not touch your face.
What should I do if I am immune-compromised or have immune-compromised children or whanau?
People with underlying medical conditions, such as a compromised immune system, liver disease, cancer, kidney disease, heart disease and diabetes mellitus, need to take more precautions to protect themselves against all infections, including COVID-19.
While New Zealand currently has few cases of COVID-19 they do expect that to change, the Ministry of Health recommends people take the following simple steps to protect yourself and others:
1. Avoid close contact with people with cold or flu-like illnesses
2. Cover coughs and sneezes with disposable tissues or clothing
3. Wash hands for at least 20 seconds with water and soap and dry them thoroughly:
before eating or handling food
after using the toilet
after coughing, sneezing, blowing your nose or wiping children's noses
after caring for sick people
Additional measures that you and your whānau and friends can take include:
If you are immune-compromised, avoid staying with a person who is self-isolating (because they are a close contact of a confirmed case of COVID-19 or have recently travelled to a country or area of concern.)
You should stay at least 2 metres away from people who are unwell if you are immune-compromised. (Social distancing).
It's also important that everyone helps to protect the safety of immunocompromised people living in our community. For example, if you're unwell, avoid contact with someone who is immune-compromised.
We recommend checking safe travel advice about COVID-19 if you plan overseas travel.
If your health care provider advises you to wear a mask when in public areas because you have a particularly vulnerable immune system, follow that advice.
If you are taking immunosuppressive drugs we advise that you do not stop this medication without first consulting your GP or specialist.
What should I do if my clinician is diagnosed with coronavirus?
If your clinician is diagnosed with coronavirus and you have not seen them recently, then you are unlikely to have been exposed to coronavirus. If you are concerned about the impact this will have on your treatment, contact your hospital for advice.
What if I have travel planned or a holiday booked to one of the affected areas – am I more at risk if I do travel?
Do not travel. Given the constantly changing landscape around the world as each country tries to navigate this health crisis, you'll find travel restrictions in place for most people anyway.
Check and keep updated on travel restrictions with safe Travel by clicking here.
The Ministry of Foreign Affairs and Trade (MFAT) is urging all New Zealanders living in, visiting or travelling overseas to register on SafeTravel by clicking here. Registering means you will receive updated information and advice as soon as it comes to hand.
People who have had cancer in the past
Does having had cancer treatment in the past (for example, stem cell transplants, chemotherapy, radiotherapy) – even if I am now in remission – increase my risk if I get the virus?
This depends on the type of cancer and the treatment you have had. Most people make a full recovery after cancer treatment and their immune system either recovers fully or is not affected.
If you have been in close contact with someone with confirmed coronavirus, call Healthline's dedicated Coronavirus team (for free) on 0800 358 5453 or +64 9 358 5453 for international SIMS. They may refer you to your GP or Oncologist for advice.
Family/friends/carers of people living with cancer
I have been exposed to the virus and am a carer for someone with cancer. What should I do?
We recommend everyone follows the Ministry of Health's advice around reducing the risk of picking up infections including thoroughly washing your hands frequently, practising good hygiene and avoiding contact with people who are unwell.
Self isolate to protect those who are more vulnerable in the community.
If you have been in close contact with someone with confirmed coronavirus, call Healthline (for free) on 0800 358 5453 or +64 9 358 5453 for international SIMS.
Carers NZ have pulled together some information for carers to help you prepare, just in case. If you become unwell and would need to stop caring while you recover, what alternative care arrangements would be needed? This would be a difficult situation for many carers and those they support – for them, life cannot simply be put on hold. Read their advice on creating a contingency plan.
Carers NZ have partnered with the Student Volunteer Army for extra peace of mind.
If you are concerned about becoming isolated in the weeks ahead, should the COVID-19 virus affect services, deliveries, or staying connected, register your details with Carers NZ. They have partnered with Sam Johnson and the Student Volunteer Army to help you if the outbreak worsens.
You will be partnered with a volunteer in your community who will stay in touch, and give practical assistance where possible.
Don't feel alone – if you or someone you care about do not have friends or family nearby, or would like peace of mind through extra support, register with Carers NZ by emailing supportteam@carers.net.nz or phone 0800 777 797.
You'll be matched with an SVA volunteer in your area, and Carers NZ will be sending regular news and updates to keep everyone connected.
I'm feeling stressed, who can I talk to?
If over the following days and weeks you feel you are not coping, it's important to seek help and professional support. Your family doctor is a good starting point. For support with grief, anxiety, distress or mental wellbeing, you can also call or text 1737 Need to talk? This service is free, available 24 hours a day, 7 days a week and gives you the chance to talk it through with a trained counsellor.
Where can I get further information about COVID-19?
Up-to-date information is available at COVID-19 (novel coronavirus).
All information from the WHO pertaining to COVID-19 can be found via the following links:
WHO recommendations for international traffic in relation to COVID-19 outbreak