Auckland Health Foundation announced today they are collaborating with Bowel Cancer Foundation Trust on two significant pieces of bowel cancer research.
New Zealand has one of the highest rates of bowel cancer in the world; it is the country's second-highest cause of cancer death.
This substantial donation left as a legacy, will enable research that aims to enhance clinical practice and improve health outcomes for bowel cancer patients, which could ultimately save lives.
The first piece of research is around familial bowel cancer. It seeks to define an individual's bowel cancer risk by looking at their family history of the disease, determining if they carry an inherited gene mutation that increases their risk, and therefore improving treatment strategies and outcomes.
Up to 20% of people who develop bowel cancer will have a relative with the disease, and with 90% of bowel cancers preventable if caught early enough, this piece of research has the potential to deliver a breakthrough in increasing patient survival rates.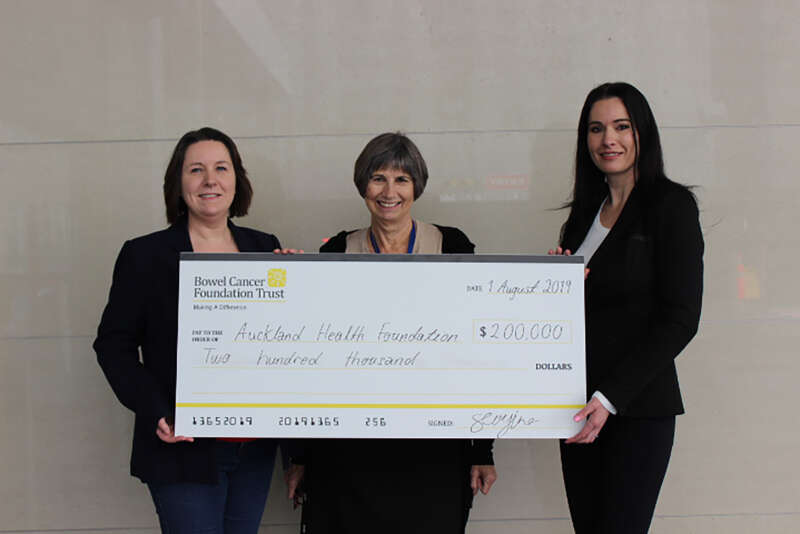 Bowel Cancer Foundation Trust CEO/Founder Georgina Mason says it is exciting for New Zealand to lead this potentially ground-breaking research. "We know that if detected early, bowel cancer can be successfully treated. By better understanding people's risk of the disease, we can ensure those most at risk receive appropriate care, such as tailored advice and regular screening."
The second piece of research is around bowel cancer rehabilitation, or more specifically "prehabilitation", which involves goal setting, exercise training and education before bowel cancer surgery. Through initiating the earliest possible intervention, the research aims to improve the recovery of all bowel cancer patients by exploring the impact of prehabilitation.
Ms Mason says, "Evidence suggests that physical activity following a bowel cancer diagnosis improves both cancer-specific and overall survival. The introduction of prehabilitation could provide insight into a patient's postoperative rehabilitation needs, which may lead to faster recovery time. Further benefits could include reducing postoperative complications and increasing a patient's motivation and engagement in post-op rehabilitation, therefore improving their quality of life.
"This research will ensure we better understand the role of prehabilitation, as we ultimately work towards developing a framework for providing both pre and post-rehabilitation services for all bowel cancer patients throughout New Zealand, enabling them to participate in specially-designed rehabilitation programmes."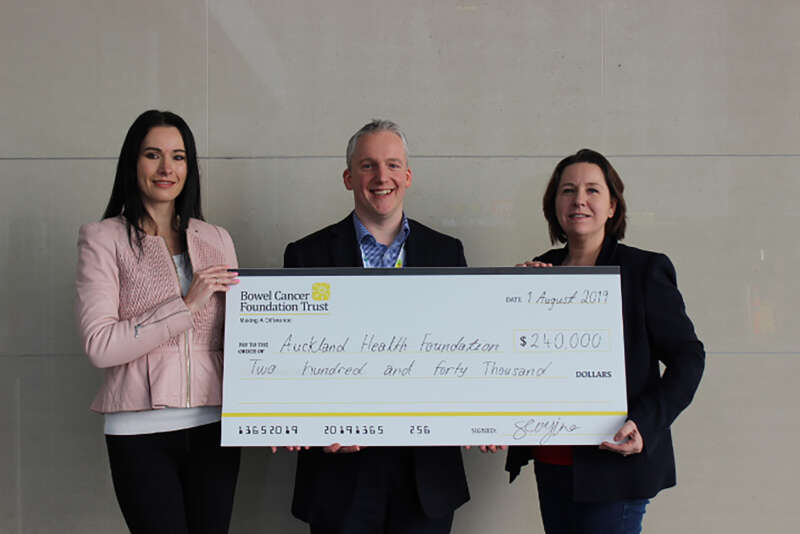 Both pieces of research will be delivered under the expertise of Auckland DHB, which is the sole beneficiary of the Auckland Health Foundation. Through donations, the foundation supports projects, research and technologies for adult health services, which have the capacity to transform healthcare and the way it is delivered within Auckland DHB.

Auckland Health Foundation CEO Gwen Green is looking forward to working with the Bowel Cancer Foundation Trust to bring these world-leading research pieces to fruition.
"Through our donors, we support research projects that benefit patients and communities, but could not be developed without external investment and generous donations like this one. We are delighted to collaborate with the Bowel Cancer Foundation Trust and Auckland DHB clinicians, including the National Medical Lead of the NZ Familial Gastrointestinal Service Associate Professor Susan Parry and Surgical Services Director Dr Arend Merrie, who will lead these hugely important pieces of research."
Ms Mason adds: "It is so important to shine the spotlight on this disease, which more than 3,200 New Zealanders are diagnosed with each year. Having the precursors to bowel cancer myself, and being treated by Auckland DHB under the care of Professor Parry and Dr Merrie, I know first-hand the importance of research to help more patients have better outcomes like mine."
With heartfelt thanks to the Colin McGill Estate for this generous donation which has enabled us to provide this much-needed research.