Inflatable T-Rex's took centre stage at this year's Boxing day races, running a 100m dash for a good cause. The Boxing Day races at Ellerslie racecourse are usually known for amazing fashion.
Bowel Cancer Foundation Trust decided to up the fashion stakes with inflatable T-Rex costumes along with two minions, a Hippo in a tutu, a banana, a Genie, Jabba the Hut and Scottie the Sky City Mascot, with their inaugural Inflatable Fun Run.
The Boxing Day races are one of the biggest events of the year and have been a fixture on the Auckland social calendar for the past 160 years. Organisers at Ellerslie racecourse were more than happy to support the charities fundraising and awareness initiative to help those suffering with Bowel Cancer.
Auckland Racing Club CEO, Paul Wilcox, said Bowel Cancer Foundation Trust was "Such a great charity that we embraced, they are doing such great things. Thanks for allowing us to support such an amazing cause and deliver some good money to a charity that helps us all."
14 volunteers took part in the run in front of a crowd of 10,000 racegoers, raising thousands of dollars towards the charities research and screening programmes.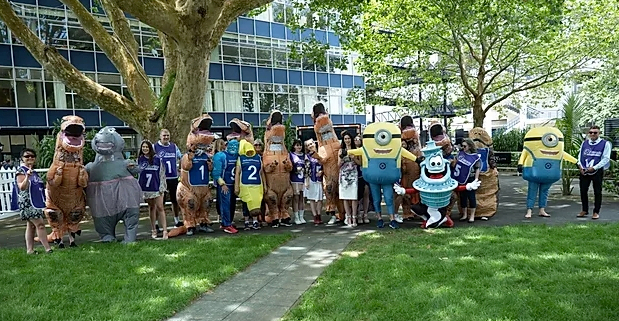 Photo Credit: Auckland Racing Club
Bowel Cancer Foundation Trust's CEO, Georgina Mason said the day was a huge success for the charity.
"We wanted to use humour to highlight a serious disease and help us bring awareness of bowel cancer to racegoers," she said.
"All the volunteers including runners and their guides have been absolutely amazing with their dedication and support to this race.
"It was hilarious entertainment for everyone who watched but extremely hard to run in the suits as the guys were so hot, they fogged up at times and were unable to see clearly."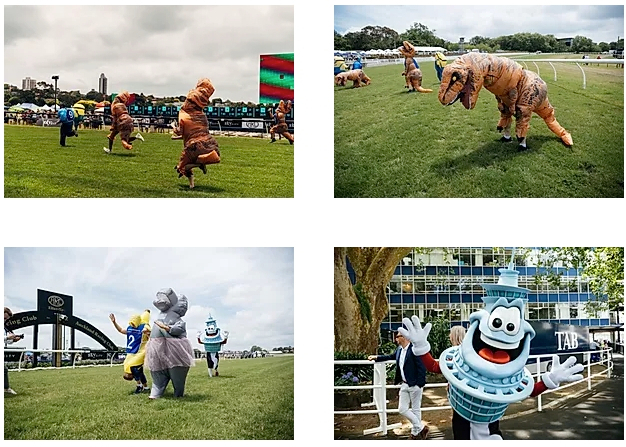 Photo Credit: Auckland Racing Club
Some of the runners were people whose families and lives have been touched by bowel cancer.
The NZ Herald's coverage of the race spoke to one of the runners, Warwick Mitchell, whose son Scotty was diagnosed with bowel cancer 13 months ago.
"It is one of those moments when you just go numb," says Mitchell.
"Scotty was diagnosed with stage four cancer and had an operation straight away and then six months of chemotherapy.
"He has been lucky to have a wonderful supportive partner in Kirsty to help him through this but we have also been lucky to have the people from the Bowel Cancer Foundation to support us as well. They have been amazing."
Warwick joined charity CEO, Georgina Mason on the stage invading Fashions in the Field to highlight bowel cancer awareness to those attending the race day on the big screens.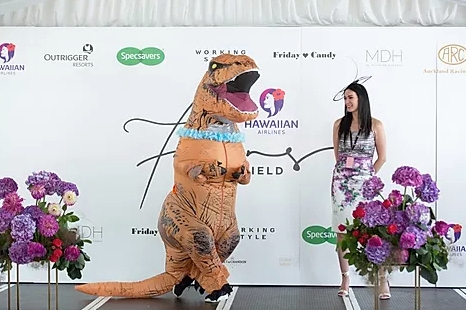 Photo credit: Norrie Montgomery
Positive feedback continues to pour in from members of the public and the business community, including Auckland Racing Club who are keen to bring an even bigger and better version of the Inflatable fun run to racegoers next year.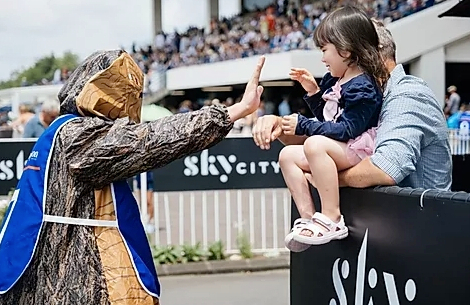 Photo Credit: Auckland Racing Club

If you would like to be a part of the Inflatable Fun Run on Boxing Day 2020 as a runner or sponsor please contact our CEO here.

Congratulations to all our runners who took part and to Josh Fisher who took out first place in his minion costume.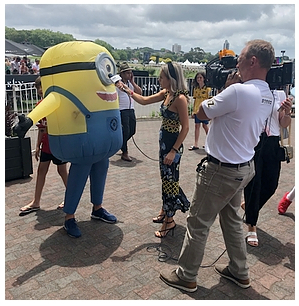 View the TV One News coverage on the Inflatable fun run click here (or on the image below):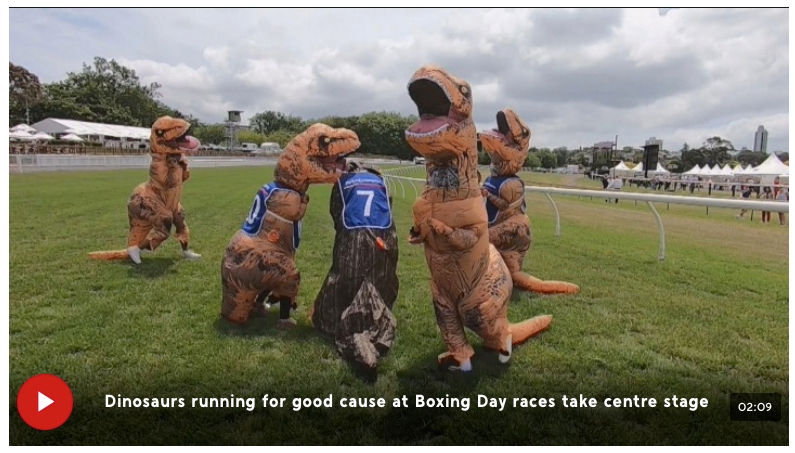 To read the NZ Herald Article on the inflatable fun run click here
A big thank you also to our amazing supporters including: