Updated 20/11/19...
Jack (Clifford) Davis does not fit the 'normal' profile of a bowel cancer survivor. Jack is part of the minority population of NZ of only 6% that has Lynch Syndrome, a rare hereditary condition that increases their lifetime risk of bowel cancer by up to 50% before the age of 70.
Jack is 49 and has stage 4 bowel cancer. With the help of Bowel Cancer Foundation, Jack is currently receiving immunotherapy treatment (Keytruda) which has seen his tumours shrink by half in just a few short months. Jack is proof that you are never too young to get bowel cancer. Here is his story…
"I was healthy for many years, I didn't have colds, I didn't go to the doctors as I was never sick. But in 2013 my wife Sally-Anne forced me to pay a visit to our local GP.
On December 18th, 2013, I was diagnosed with tongue cancer. I had to have intensive treatment for 6 weeks including chemotherapy and Radiation. I was tube fed because I could not eat or drink fluids. Over 6 months I fought cancer and was given the all-clear in late 2014. It was a miracle. But it wasn't long before I received more bad news.
My bowels started to change in August 2015 and I went to the doctor. Unfortunately, it was not my normal doctor but a locum. Given my history I asked if he could check for cancer as my bowels were different, the locum doctor replied, " You are too young to have cancer of the bowel."
In November 2015, I collapsed at home and was rushed into hospital. Routine checks were done and several biopsies were completed. It was later confirmed that I did, in fact, have bowel cancer.
On Christmas eve of 2015, I had a colonoscopy to confirm how many tumours there was inside my bowel. 15 were confirmed in total. The Doctor commented, 'You are too young to have so many cancers in your bowel, I think you may have a genetic fault."
On February 11th, 2016, I underwent surgery. I had all of my large intestines removed and had an ileostomy bag for about 9 months. It was life-changing having a bag. I hated it.
I felt so insecure about having a bag. I felt my life had been taken away from me because of the bag. It was not a normal feeling, I felt alienated. It was the worst time of my life.
I had to keep reminding myself it was the only way that they could get rid of cancer. I was grateful for that.
On November 26th, 2016, I was given the opportunity to have a bag reversal (an operation that involves re-joining the ends of the bowel and closing the opening or stoma that was formed during the operation). I was unsure if I should go ahead with the operation but my surgeon assured me that it would be a success. On November 26th, I had the reversal.
In the beginning, I was going to the toilet several times a day until my body adapted to what had happened after the surgery. The operation was a great success and going to the toilet was like normal. I was so pleased about how life was going for me.
Before having the reversal, I had bloods taken by the genetic team in Christchurch which was sent to Australia to be tested to see if I had a genetic fault. The results came back and it was confirmed that I had Lynch syndrome. A genetically mutated gene that causes cancer to accelerate.
I was told that there would be a 50/50 chance that the cancer could come back within 2 years. I was also told that our four children, Thomas age 22, Aimee-Anne age 20, Poppy age 9, and Hunter age 7, would need to be tested as well. Our eldest daughter Aimee-Anne who is 20, opted for the test which proved positive and she now has to have an annual colonoscopy and scan.
Our eldest son is still waiting to be tested and we have to wait 10 years before the younger children are tested. We were told 2 of the children will carry the gene.
Life was happy for 6 months until May 19th 2017. I had a routine blood test and a CT and PET scan to give me the all-clear. I knew it was serious from the look on my surgeon's face then he said, "sorry its terminal."
Metastatic colon cancer with peritoneal metastases, mesenteric periportal and peripancreatic lymph nodes was found (abdomen and pancreas) and I was given between 2 to 6 months to live. I had no symptoms and had no idea that I now had terminal cancer.
I was given the options of Palliative chemotherapy with a 20% chance it may work, or choose a new drug called Immunotherapy Pembrolizumab (Keytruda) with an 80% chance it may work. Keytruda is not government funded here in New Zealand and has an estimated cost of $60,000 for patients. The oncology doctor in the public system told me that I would have to go private to obtain this drug.
My wife fought the private sector to get an appointment ASAP as I was given a minimum 2 months to live but there was a waiting list of 3 months, time was not on my side.
My wife went on the social media Facebook pages and came across Bowel Cancer Foundation and the CEO Georgina Mason replied to her message immediately. We can't thank Georgina enough for organising the appointment for us so quickly (within a couple of days) to see the oncology doctor in the private sector here in Christchurch.
We had a big meeting at St Georges hospital and I was asked questions why I wanted to go on this new drug? and what if it didn't work? This was a risk I was willing to take as I didn't want chemotherapy. Chemotherapy made me so sick back in 2014 and I didn't want to have that treatment again.
The oncology doctor agreed for me to start on the drug Keytruda. Georgina from Bowel Cancer Foundation had already organised with the pharmaceutical company that made Keytruda put me on a 'Cost Share Programme'. I had to raise the first $60,000 and then the pharmaceutical company would pay the rest for up to 2 years of treatment.
Fundraising was the only option for us and we are so grateful to so many people for donating to help pay for this drug to keep me alive.
Treatment started straight away and after the 4th injection, the results from a scan showed all the tumours had reduced by half and 2 of them were stable. I was so happy with the results.
By the 5th injection, we had nearly raised the $60,000 needed for the cost-share programme to kick in but was shocked to learn that GST and admin charges had been added to the treatment total which meant we needed to raise a further $27,000. Because the drug company only looks at the drug component cost, GST and admin from the hospital that administers it is not included and this wasn't told to us by the hospital in the beginning.
The total bill to pay has jumped up to $87,257.12
The oncology doctor said because Keytruda is a new drug he doesn't know if the cancers will return if I come off the drug.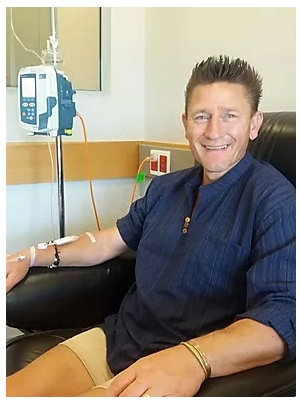 I was so worried financially trying to raise the extra cash. We are so grateful for the Bowel Cancer Foundation for paying for the 7th injection to keep us going through Christmas until we can come up with the final amount.
It was such a relief for us getting the extra help. We are still very frustrated about the GST and admin and the fact that we still have to raise so much money for the Keytruda drug to save my life. It should be Government funded.
My 8th Injection is in a couple of weeks. On December 15th I shall have a scan to confirm where my cancers are. After the 9th Injection, the cost patient programme kicks in. We still have to pay GST and admin every 3 weeks total of $1800.
The oncology doctor said that I am the only person he knows to date with Lynch Syndrome where the cancers are shrinking. It's such great news and we're hopeful the next scan will reveal NED (No evidence of disease)."
Updated: 15/12/2017
Jack's second scan revealed all tumours had shrunk by a further 1mm and all tumours were stable.
Updated: 21/03/2018
Jack's third scan revealed all tumours have overall shrunk by 60%. They have not reduced in size since the second scan in December but remain stable.
Updated: 25/06/2018
Jack's 4th scan revealed all tumours have stabilised and Dr's think that they may stay like this for a while. Jack's immune system is running at 100% meaning that his own immune system is keeping the tumours at bay.
Neck tumours have vanished which is fantastic news. Future treatment of Keydruda will continue for another year. His wife, Sally-Anne said, "We will continue to fight and be positive, even though the cancers are still there.
We have battled this journey for 4 years and we will not give up... Thanks to friends and family who have supported us over the past year of treatment . .... and helping us to fundraise for the drug. Without this support, I don't think Jack would be alive today. Thank you."
Updated: 21/09/18
Jack was advised to take a 3-month break without Keytruda treatment and the results from his 5th scan were confirmed today that the cancers have stayed stable with no new regrowth. Treatment restarts next week. 17 cycles every three weeks for another year.
Updated: 20/12/18
Jack couldn't have received a better birthday present than being told today that the latest CT scan revealed he only has one tumour left!!
With 12 more infusions to go on the cost-share programme (36 weeks) the outlook is looking bright for Jack.
Updated: 20/11/19
Jack still has one tumour remaining. It has been classed as inoperable and terminal but has still shrunk by 10mm. Keytruda treatment has been put on hold because of cost and side effects which has caused some thyroid problems. More updates to come...
Please note: Jack also keeps himself fit with exercise every day and clean eating. Oncologists have proved that rehabilitation through exercise can help reduce secondary illnesses and cancer recurrence.
Jack also takes Frankincense which is a known anti-inflammatory and has scientific research to back that Frankincense oil has anti-tumour properties which showed that it had the potential to disrupt cancer cell growth.
Keytruda is working to reduce tumours in stage 4 bowel cancer survivors.

Updated: 13/04/23
Jack is still fighting cancer. Ten years after first being diagnosed Jack feels like he's finally getting the upper hand at last. His latest results showed today that his last tumour has shrunk by a further 3mm. He said Keytruda definitely works but it comes at a cost.
"Since becoming ambassador at Bowel Cancer Foundation Trust over 5 years ago, I've had lots of people asking for advice on many different levels from diet, sleep, pain management, support and what exercises to do. Most of all someone to relate to with partner support. This role has absolutely given me a boost."