Renowned New Zealand actor and veteran broadcaster, Lloyd Scott, is a bowel cancer survivor. For almost half a century, Lloyd has acted in movies such as Taika Waititi's 'Hunt for the Wilderpeople' and 'Hercules the Amazon Women' and was a Radio NZ broadcaster. Lloyd's biggest role was overcoming bowel cancer.
Here is his story...
"My specialist, at our first meeting said "Well, it's cancer", and added "common or garden bowel cancer" which put a smile on my face. I wasn't really surprised. I noticed, roundabout July 2005, my bowel movements had become very fluid, and my stomach was very noisy, but it wasn't until December I went to my doctor, who rang me with the results of the blood tests to say he was requesting a colonoscopy for me at Wellington Hospital.
I duly had one mid-January 2006 and was given a letter with some small, bowel photos attached, plus an appointment time with a Mr. John Keating for the following Tuesday. He explained how it would all work from there, and I made a request to wait until the end of the month for any surgery to take place.
I had a role in Wellington Musical Theatre's production of "Beauty and the Beast" and we were opening in two days time. I really wanted to do the show, so John made a date for my operation two days after the season ended.
I had a week in the hospital and a friend looked after me for the next 3 weeks. John removed 26cms of large bowel and 4cms of the small bowel, along with my appendix.
I can't explain why, but I was never afraid. I describe it as an adventure, wondering what each step would be like as it approached. I gave myself completely to the people I was entrusted to, and they were wonderful.
Everyone was so helpful, and John was marvellous. Radio New Zealand gave me leave and huge support, which I needed soon after when I started chemotherapy. I ended up having only 11 sessions of chemo. It should have been 18, spread over 6 months, but I didn't take to it very well. Vomiting and diarrhoea were indicators of that. Tiredness too and watering eyes! I ended up being away from the radio for 4 or 5 months.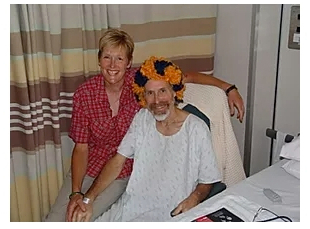 "Wearing my lions wig with my friend Nicky Chapman"
These days I almost need reminding that it all happened. I'm sure chemo works for many people and I would advise anyone to take it if it's offered. It may have helped me too, even though I didn't avail myself of its full course.
I still get some blood tests, but the colonoscopies stopped several years ago now and I seem to be in good shape. 13 years have gone by and I'm a cancer survivor. I'm 77.
John Keating asked me if there was any family history of cancer and I was quick to reply "no", but when I gave it a bit more thought, four cancer cases came to mind, one of those being bowel. Maybe that contributed to me developing it, because I have always tried to keep myself in pretty good shape to guard against just this sort of scenario. It pays to have check-ups!
My career has been full of bouncing from one thing to another, but always under an actor/broadcaster umbrella. My early radio days were with 2ZM in Wellington before an opportunity arose to become a professional actor at Downstage.
The next twenty-seven years were with stage, TV and radio, which I have loved every minute of. A highlight was playing Barry Crump's sidekick, Scotty, in a series of Toyota HiLux TV commercials spanning fifteen years. I finally retired from radio in 2017 after thirteen years as a co-host on the all-night programme at RNZ.
I have had many opportunities to work with Michael Nicholas Williams, another bowel cancer survivor, largely through his good graces. It's always been a joy, and I play a small role in his film "Upstage".
We are survivors together.