Unichem and Life Pharmacy and Bowel Cancer Foundation Trust are encouraging more people to be proactive with their bowel health during bowel cancer awareness month this June. Bowel cancer is the most diagnosed cancer in New Zealand with around 3,200 people diagnosed each year. 90% of bowel cancers can be prevented if caught through early screening.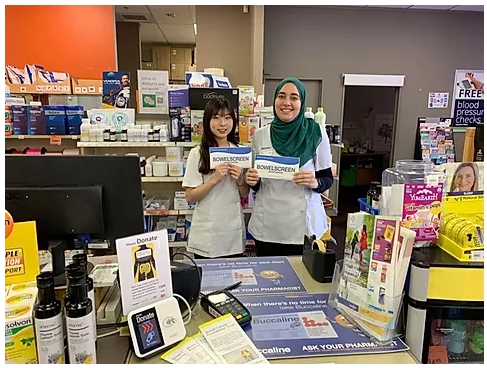 Unichem Apollo staff on Auckland's Northshore promoting bowel screen Aotearoa for bowel cancer awareness month June 2019
"Unfortunately, the Governments Free National Bowel Screening Programme only caters for those between the ages of 60-74 and is available in less than half the District Health Boards around the country," said CEO of Bowel Cancer Foundation Trust, Georgina Mason.
"This age group will only pick up around 36% of all bowel cancers that are registered annually so we're encouraging people to take part in Bowel Screen Aotearoa which helps anyone who wants to self-screen and provide themselves with a base in which to monitor their own bowel health."
Bowel Screen Aotearoa is a self-screening kit that has been available from Unichem and Life Pharmacy since 2010.
Green Cross Health reports that 5% of their self-screening kits purchased in Pharmacy or online returned a positive result requiring referral to their GP.
"Not all bleeding indicates bowel cancer but can indicate other internal issues that may require further investigation. Bowel Cancer Foundation Trust provides follow up help for anyone self-screening, or needing bowel cancer rehabilitation and help with treatment so we can help save more lives," said Georgina.
Bowel cancer symptoms:
Blood in the stools and/or bleeding from the rectum
A change in bowel habit lasting longer than 6 weeks (e.g. loose stools, diarrhoea or constipation)
Stomach pain (often severe)
Lumps or a mass in the abdomen
Weight loss
Weakness and tiredness (symptoms of anaemia)
People experiencing bowel cancer symptoms or who have a personal/family history of bowel cancer or polyps are advised to also discuss appropriate screening for the disease with their Doctor.

Donate securely online to help us with screening treatment and rehabilitation of bowel cancer patients (click here).