Whitinga Harris, 31, from Ōtaua, southwest of Kaikohe, was diagnosed with colon cancer late last year just as he was finishing his teaching degree so he could help Maori youth. By the time the stage-four cancer was found it had spread to his stomach. With your help, the immunotherapy drug Keytruda will help reduce tumours and give the Northland dad more time with his two sons.
Here is his story as told by family friend Ruby Grace...
"In October 2018 Whitinga got diagnosed with stage 4 colon cancer. He was 31 at the time. He was in the last month of his teaching degree and this came as a huge shock to the young dad of 2.
Whitinga wanted to become a teacher so that he could give back to the community. Sadly, his diagnosis means this dream has been put on hold. He wants to keep giving and making a positive impact on the world. But to do this he needs the support of his village. He needs the support of you.
His only chance is immunotherapy and a drug called Keytruda which is not yet funded for his type of cancer. If he could he would spend his days teaching and spending time with his boys. But for now, he needs to beat this cancer. And he needs us to help him.
When we found out that Whitinga needed immunotherapy and that it would cost $100,000 we felt lost. The healthcare system can be overwhelming and navigating through it during this time was difficult. We reached out to Georgina from the Bowel Cancer Foundation Trust and she helped us to find clarity and direction.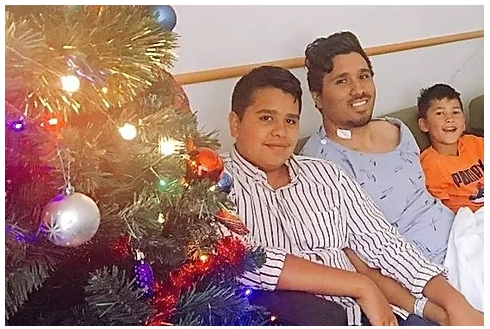 Whitinga Harris, with his sons Heremia, 12, and Waaka, 9
We know we have a long journey fundraising to reach our goal but knowing that The Bowel Cancer Foundation Trust are there to give us advice and guidance means we have one less thing to worry about."

We at Bowel Cancer Foundation Trust are following Whitinga's journey and are here to help every step of the way. We have helped a number of patients get on to our charities Keytruda programme and many patients have shown positive results with the reduction of tumours.
Follow Whitinga's story here as we update you below as and when we receive news.
Please help Whitinga reduce his tumours and spend more time with his family please donate via the givealittle page here.