Family friend, Bruce recounts the story of love faith and friendship as he joins a group of people fighting to help raise funds for 44-year-old Caleb Taiala to help him beat bowel cancer. For those who know the Taiala's you will think of words like kindness, love, joy, generosity, fun, God, great food, openness, smiles and community. All this will never change this beautiful family. They are simply wonderful in who they are.
Life, however, has thrown them a massive challenge. Dad, Husband, wonderful human, Lower and Slower chef – Caleb received the devastating news, before Christmas, he has Stage 4 metastatic bowel cancer.
Caleb & wife Kerry said: "Hearing the news is one thing, telling their four children was the hardest thing they have ever done."
The diagnosis is not great. Caleb has a large, right-sided primary tumour in his colon with "innumerable" liver metastases and disease outside his liver. He has been on an aggressive course of chemo but two months on, Caleb's wife Kerry explained they hit a major roadblock.
"Caleb was initially set up for 6 cycles of Fofirinox. After four weeks a CT scan revealed Caleb's metastases on his liver has increased." This is not the news they wanted to hear.
Kerry said "We stayed in a place of despair for about 24 hours but have since managed to get our heads back in a better place and return to a place of hope. The fight isn't over," she said. This is a testament of the resilience of the Taiala's.
The reality is New Zealand has some incredible medical care but there are also alternatives overseas that, for the right patient and circumstances, can make a difference. So one door can shut and another can open.
The next step is to have a private consultation with a specialist at Canopy Care to review Caleb's case and clearly review alternative treatment opportunities. This is what it takes when faced with the fight of their lives – you leave no stone unturned.
There are still many questions around Caleb's age, the role of genetic testing, looking at the hereditary causes like Lynch syndrome. You just cannot give up. Kerry would say you are fighting not only for Caleb but also for what we have, our life, our children Elijah (son 16), Josiah (son 14), Zachariah (son 11) and Evangeline (daughter 8).
So when faced with a seemingly impossible journey how do you cope. Caleb and Kerry are people of faith, courage and hope. As Caleb said, "This will be a journey of letting science do its thing, our faith is ever-present, with a deep desire for a miracle. Our faith absolutely counts for everything."
Caleb's zest for his family, his life and people is what drives him. Everything he has set his heart to has been about helping communities, people and bringing joy.
He started his career as a police officer, moved into youth engagement/development and then decided to take on problem gambling in his community. But what defines him is being a man of God, Husband and father. He has always prided himself on being a family man.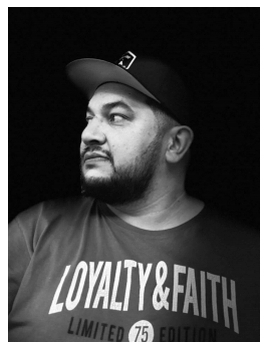 Devoted family man, Caleb Taiala
Ian Grant (founder of the Parenting Place where Caleb once worked) used to say, "Create great memories for your kids." Caleb took this to heart and put it into practice. Caleb considers it an absolute privilege to be a dad and provide opportunities and create memories like many of those who didn't have those opportunities when they were younger.
This part of the story is not how he wants the memories to end.
So Caleb and Kerry are now in the next stage of their journey getting the facts, understanding the disease, consider all the factors that are unique to Caleb, seek the best advice, research more, take each day as it comes and fight like there is no tomorrow. That is cancer – there is no blueprint for success you have to hustle. The solutions are never simple.
So that is the Taiala's – how can you help? The best way is financially.
Due to the complexity of his case treatment, we are hoping that in the USA there is potentially an option that could provide favourable outcomes. This treatment will be based on Caleb's genetic makeup. We are hoping the specialist can confirm this and then we can act immediately.
Then there is the cost of living – Caleb is not working. His family has to focus and give all their Aroha and support to him – this is a battle! So taking away financial pressure will help this battle immensely. Trust me he would rather be working!
So we would love you to be generous and take away the day-to-day financial burden. Our goal is to raise $180,000 – we already know treatment alone will be around $90,000. So this will help with living, the right drugs and potential travel to USA for further treatment.
This family constantly give. It is now time for us to give back.